Morristown UMC seeks new Director of Music Ministries
Morristown United Methodist Church, known for its outstanding music ministries and programming in the community, is seeking a Director of Music Ministries.
Serving Christ in the Morristown area since 1826, MUMC sits on The Green, the town square and center of activity in town. Our worship services are open to all who seek Christ and we are intentional in welcoming the stranger. Our 5000 square foot sanctuary is filled with the power of a fifty-two rank Austin pipe organ, our Yamaha concert grand piano, and a congregation that embraces the gift of music.
We believe music unites us as the body of Christ. It also energizes our effort to serve the needs of our faithful members and to reach out into the community. Our music ministry ranges from traditional to contemporary music, and embraces new traditions of musical expression. We are a Reconciling Congregation and are committed to welcoming people of all ages, ethnicities, sexualities, abilities, and gender expressions.  Read our Welcome Statement here.
This position requires a collaborative and faith-inspired creative individual who is able to show initiative and follow-through on commitments.
RESPONSIBILITIES:
 Weekly Worship Services
Works collaboratively with Pastor, organist/pianist, staff, and Worship Committee to coordinate music for worship services. Provides leadership during services by leading congregational singing and directing various church musical groups, as well as arrange for occasional guest performers.
Seasonal Adult Chancel Choir
Active September through June with one weekly rehearsal and Sunday anthems.
Jubilation Ringers – Adult Handbells
Active September through June with one weekly rehearsal and Sunday anthems.
Concert Series
Working with a Board of Directors, coordinates an annual schedule of outside performers.
Administrative Tasks
Submitting newsletter articles that highlight music ministries, providing material for bulletin, create programs for the Concert Series performances.
NOTE: There is potential for the individual in this position to become a full-time position with an increased salary by building new music ministries at MUMC.
Requirements for consideration:
Education: Minimum Bachelor's Degree in Music with preferably vocal/choral training.
Job Experience: Minimum of three years of directing church choirs.
Experience with Microsoft Office required.
Salary Package:
This job is considered ¾ time with 30 hours per week with flexible scheduling.
Pay is $30,000 to $40,000 annually, contingent upon experience.
Two weeks paid vacation annually during the initial three years of service, three weeks paid vacation  annually after three years of service.
Please express interest with a cover letter and resume sent to [email protected] no later than August 20, 2021. In addition, we are open to receiving other forms of expression such as a short MP4 through which you introduce yourself and include clips of your leadership skills leading congregational singing or musical ensembles.
The Jubilation Ringers are our handbell choir! We rehearse every week from September to June, limiting our time indoors to only 30 minutes.  During Covid, we also present micro-concerts outdoors on Sundays at 1 p.m. when the weather permitted. We are currently accepting ringers from total beginner to advanced and will create more small ensembles as necessary. If you don't read music, no problem! There's no better time to learn, and perhaps no better way to start than with handbells.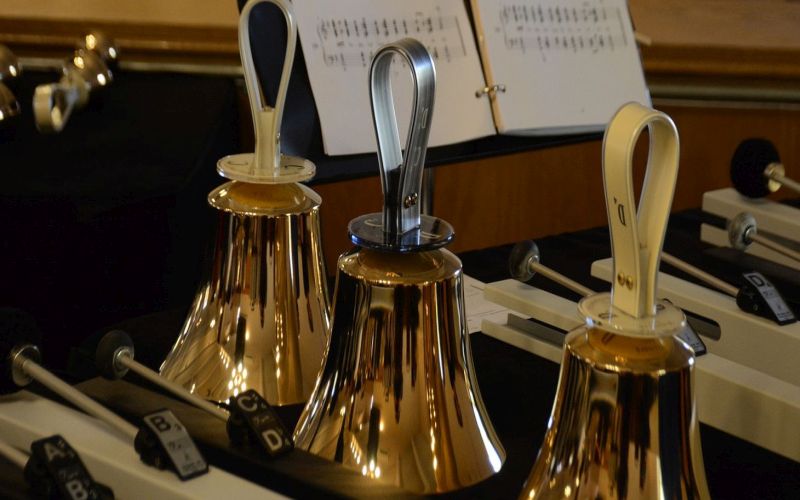 Here are some other active ministries that we had in the "before-times" and that will be back as soon as it is safe for all:
Chancel Choir: a choir for people aged high school and up. We rehearse weekly on Thursdays from 7:30-9:30 and sing every in every 10:15 a.m. service, plus in special services and events throughout the year.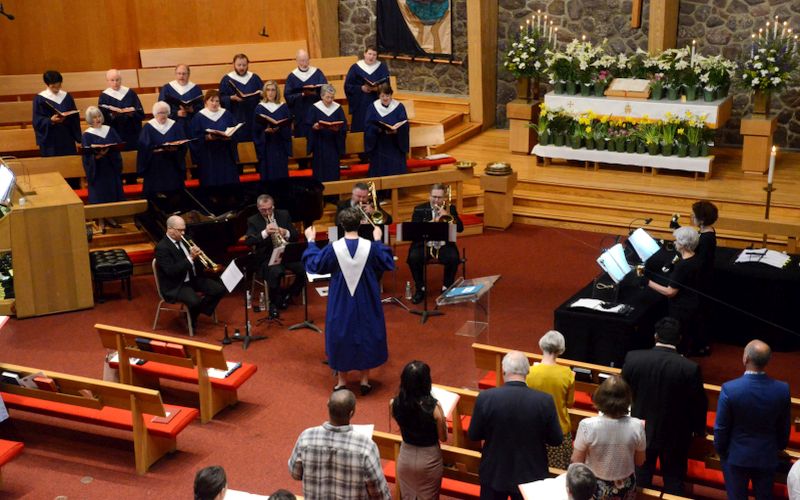 Kids of the Kingdom: our children's choir for all in Sunday School. Rehearsal takes place as a part of the weekly curriculum on Sunday mornings.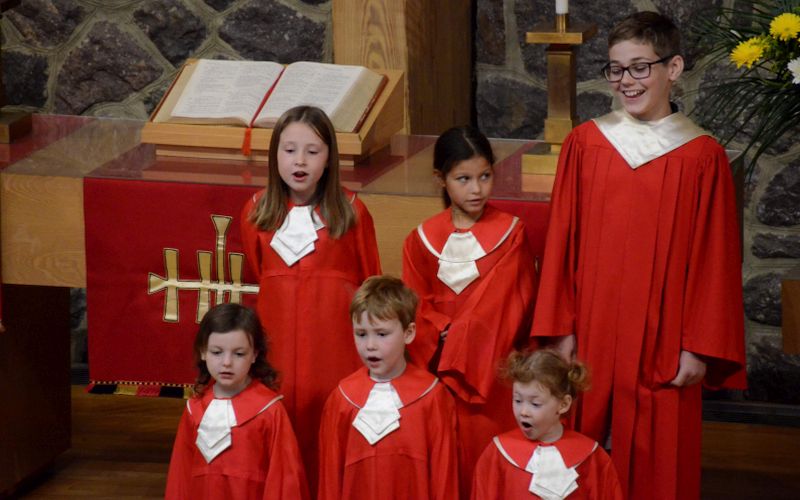 [email protected] Concert Series is made up of two nesting sets of concerts: Music At Noon are 30-minute lunchtime concerts on Thursdays in December and January; and Abendmusik (which is German for evening-music) are full-length Saturday night concerts throughout the year. [email protected] is celebrating our 40th anniversary and will return as soon as it is safe for folks to gather indoors.